Get up to 10% in rewards*
on 1st Add Cash for 7 days
Points Game

42,319 Online

Pool Game

26,930 Online

Deals Game

30,777 Online

POOL Game

34,624 Online

POOL Game

23,083 Online
🔥 Play unlimited cash rummy games online and win big!
Withdraw Your Winnings in 60 Seconds
Instant Withdrawals

Bank Transfers

UPI Withdrawals
More Reasons to Play Rummy & Win
Unlimited Free games

Zero-Fraud Guarantee

24*7 Customer Support
Amazing offers for you!
Play the game you love and win big.
Trusted by 1 Crore+ Rummy Players
Made in India, for India!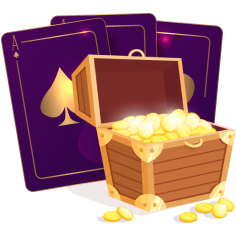 More friends. More rewards!
You'll get up to 2,500 Discount Credits with every successful referral.
Terms & Conditions apply
100% Safe & Secure Rummy App
Absolutely Legal & Safe. Made in India!
Please Note: Players from Telangana, Assam, Andhra Pradesh, and Odisha are not allowed to play online cash rummy.
Learn how to play
What is a Rummy Game?
Rummy is a popular card game, typically played by 2 to 6 players. Primary aim is to form sets or sequences of cards. The game of rummy demands strategic gameplay and skillful card arrangement, and the objective is to eliminate all cards in hand by creating valid combinations. For this reason it is categorized as a game of skill.
Commonly played in India is a 13 card rummy game involving the dealing of 13 cards to each player. In a 2 player game, a standard deck of 52 cards is used whereas in a 6 player game, two decks of 52 cards are combined. A player is required to complete sets and melds, and once accomplished, a valid declaration must be made to emerge as the winner.
Set, Sequences and Joker Card Rules in Rummy?
Sets and Sequences form the basic structure of the game.
In layman terms, Sets are a group of cards of different suits. For example, 7♥ 7♦ 7♠ or A♥ A♦ A♠ A♣.
On the other hand, Sequences are made by arranging cards of the same suit in a sequential manner. For example, 5♠ 6♠ 7♠ or J♥ Q♥ K♥.
A Joker Card can be used to form sets and sequences in rummy. A joker can be either a Printed Joker or a random predetermined card from the deck known as a Wild Joker. For example, 4♠ Printed Joker 6♠ or Q♥ Wild Joker Q♠.
It is necessary to form at least one pure sequence (a sequence without any Joker) and one impure sequence (a sequence that may include a Joker) in order to declare and win the game.
Real Cash Rummy App
When you play on the RummyTime app, you get the best experience possible real cash rummy game. App's fluid design makes the gameplay smooth and it has been crafted in a way that it's easier to understand, operate, and play.
You can also download the rummy app apk for free.
Here are the rummy variants available on RummyTime:
Deals Rummy: In this, you play a fixed number of Deals. It varies from 2-player 1-deal to 6-player 3-deals games. You get a fixed amount of chips at the start of a game. If you win a deal, you get chips based on the score of other players. Based on the variation you are playing, if you have the maximum chips at the end of the game, you win.
Pool Rummy: Your goal is to not breach a certain score. There are different variants of Pool rummy - Pool 61, Pool 101, and Pool 201. Played between 2-6 players, the winner of this game is decided when all other players (except the winner) breach a limit of points (61, 101, 201).
Points Rummy: Points rummy is fast and fun. In this variation of rummy, the aim is to keep your score as low as possible and declare before your opponent. On RummyTime, you can play Points games from ₹0.01 point value to ₹125 point value.
The RummyTime app also gives you the opportunity to play free games. You can enter these games and win extra Discount Credits! Use this DC to enter cash games and win bigger rewards. These free cash rummy games will help you improve your skills and try out new strategies against other players.
If you want to play a free tournament, we have that as well. We also host the Saturday Mega Free Roll, one of our biggest rummy tournaments.
How to Play Real Cash Rummy
Follow these steps to play real cash rummy on RummyTime app:
Step 1: Download the RummyTime app and install on your smartphone.
Step 2: Create an account, complete KYC and deposit funds.
Step 3: Join real cash games or tournaments of your choice.
Step 4: Withdraw your winnings securely.
A Starter Guide to Rummy Beginners: How to Play Rummy?
Rummy Game in a Nutshell
The game of rummy can be summarized as follows:
| | |
| --- | --- |
| Original Name of the Game | Rummy |
| Type of Game | Multiplayer Card Game |
| Origin | Mexico. But, mainly popular in India. |
| Commonly Misspelled Term in India | Rammy |
| Game Variants | Points, Pool, Deals and Tournaments |
| No. of Players | 2 and 6 Players |
| No. of Card Decks Required | 1 deck for 2 player game and 2 decks for 6 player game |
| Proceeds | Clockwise |
| Is Real Money Gaming Available? | Yes. Real Cash Rummy in various multiplayer format games and in the form of Tournaments as well |
| Game Formats | Real Cash Games, Free Games, Free Tournaments and Cash Tournaments |
| Is it legal in India? | Yes. It is 100% legal in India (except for few states) |
| Are Taxes Applicable? | Yes. 30% TDS is applicable on net winnings at the time of withdrawal and also at the year end. |
Rummy FAQs for Beginners
What is the general format of the rummy game?
The game is very simple and straightforward. Firstly, 13 cards are given to each player, and they are required to arrange these cards in valid sequences which must include a pure and a pure or impure sequence and/or sets.
Once the valid sequence and/or sets are made with these 13 cards, the player puts the 14th card to the discard pile and declares to claim for a win.
What is online rummy?
An online rummy is the digital version of the real rummy game designed to play on an app on your smartphones.
How can I learn to play rummy, I am an absolute beginner?
It is very simple to learn rummy. Though a lot of practice is required to master the game. For beginners, it is advisable to play rummy games on the practice version before playing real cash rummy games.
What is the difference between Practice Games and Real Cash Games?
To play Practice Games, you don't need to deposit any money. But to play Real Cash Games, you need to deposit money. In Cash Games, you can compete with rummy players from across the country any time and win real cash.
What is the difference between free rummy tournaments and cash tournaments?
Free tournaments have no entry fees. Players can enter them and then win big. Whereas cash rummy tournaments have fixed entry fees. In such cases, players can win from a pool of money at stake.
Is online rummy legal in India?
Yes. The game of online rummy is legal in India. In 1968, the Supreme Court of India passed a judgment that deemed rummy a game of skill. However, few states, based on their legal discretion, have restricted skill based games that involve stakes. Read more about this here.
Are taxes applicable on cash rummy games?
No. 28% GST will only be applicable on deposit. There is no GST levied on the buy-in of cash games.
Learn More: Rummy FAQs