India's most trusted rummy destination!
India's most trusted rummy destination!
76,943 Players online
Rummy Tournaments
Participate in exciting rummy tournaments every day. Register for Saturday Mega Free Roll and Sunday Ultimate Free Roll and win big!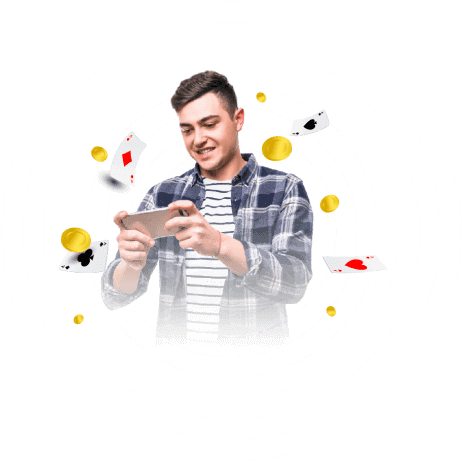 Withdraw Winnings in 60 sec
Free Tournament every 30 mins

₹4 lakh Saturday Mega Free tourney

Cash Tourneys 24X7
More reasons to join us & win
Unlimited Free games

Zero fraud guarantee

Call support to All
Why You Should Play Rummy Tournaments.
Rummy tournaments bring a dose of thrill and excitement to the wonderful game of rummy. They let players show off their rummy skills, compete with fellow rummy players, and win some amazing rewards and prizes. Let's explore the three different types of tournaments:
Free Tournaments
Cash Tournaments
Satellite Tournaments
Each of these caters to different player preferences and brings its own exciting opportunities to the table, quite literally!
Free-entry tournaments with Discount Credits
Free tournaments, as the name suggests, are tournaments that do not require an entry fee. They are open to all players, allowing anyone to participate without any financial obligations. In these tournaments, participants can win Discount Credits, which can be used to play any cash games available on the platform.
Saturday Mega Freeroll
The Saturday Mega Freeroll is a highlight among free tournaments. It occurs every Saturday at 9 PM and replaces the Primetime Freeroll. Participants have the opportunity to win from a generous prize pool of ₹12.5 Lakhs, with a guaranteed minimum prize of 10 Lakhs and a first prize of ₹50,000. This mega tournament attracts players from all over the country, creating a highly competitive environment.
Sunday Ultimate Freeroll
Another exciting free tournament on the app is Sunday Ultimate Freeroll. This tournament takes place every Sunday at 3 PM and features a massive prize pool of ₹22.5 Lakhs. Participants can compete for a minimum guaranteed prize of 8 Lakhs, with a grand first prize of ₹1 Lakh. The Sunday Ultimate Freeroll adds extra excitement to players' weekends, making Sundays truly special.
Real Cash Rummy Tournaments
Cash tournaments are an integral part of the rummy gaming experience, offering players the chance to win real money. Unlike free tournaments, cash tournaments require a fixed entry fee for participation. By joining these tournaments, players compete against each other to win cash prizes, which they can withdraw to their accounts.
Fixed Entry Fee
Cash tournaments have a specified entry fee, ranging from ₹10 to ₹1000. The entry fee varies based on the tournament's prize pool and the level of competition involved. The higher the entry fee, the higher the potential winnings for players who emerge victorious.
Range of Entry Fees
RummyTime provides a diverse range of cash tournaments, ensuring there is something for every player's budget and level of skill. With entry fees starting from as low as ₹10, players can choose the tournaments that align with their preferences and investment capacity.
Availability and Prizes
Cash tournaments are available throughout the day on RummyTime. This means players can join these tournaments at their convenience, as per their schedule. By participating in cash tournaments, players stand a chance to win attractive cash prizes based on their performance and ranking in the tournament.
Satellite Tournaments
Satellite tournaments offer a unique format where players can embark on an exciting journey towards winning significant rewards. These tournaments consist of a series of interconnected tournaments, starting from basic shooters and progressing through satellites, tickets to mega finales, and ultimately culminating in the grand finale tournament.
Structure of Satellite Tournaments
Satellite tournaments are designed to provide players with incremental opportunities to advance through various stages and eventually compete in the grand finale. Participants can join satellite tournaments with a minimum entry fee, usually starting at ₹ 10, and gradually progressing through each stage.
Journey of Satellite Tournaments
The journey of a satellite tournament typically begins with basic shooters, which act as preliminary rounds. Successful players from the shooters advance to the next stage, known as satellites. These satellite tournaments further filter the participant pool, allowing only the best players to move forward. The players who excel in the satellites secure tickets to the mega finale, where they compete against other ticket holders for the ultimate prize. The mega finale is the pinnacle of the satellite tournament series, bringing together the most skilled and determined players for an intense battle of strategy.
Types of Satellite Tournaments
RummyTime offers various types of satellite tournaments suitable to different player preferences and schedules. Among them are:
Daily League
The Daily League is a recurring tournament that takes place every day. It consists of pre-qualifiers and qualifiers held at different times throughout the day, leading up to the finale scheduled for 10:00 PM. Players can participate in the Daily League and progress through the stages to secure a spot in the grand finale.
Royal League
The Royal League tournament holds special significance among satellite tournaments. It serves as the flagship tournament of RummyTime, featuring qualifiers and pre-qualifiers starting around the 20th of every month. The finale takes place on the 1st of the consecutive month at 10:30 PM. The Royal League offers substantial prize pools and attracts skilled players looking for high-stakes competition.
Pro Weekly Finale
The Pro Weekly Finale tournament adds an extra layer of excitement to the satellite tournament experience. Twice a day, at 12 PM and 9 PM, Pro daily qualifiers are conducted. These qualifiers award tickets to the Pro Weekly Finale, along with an attractive prize pool. To join a Pro daily qualifier, players can use either cash or tickets. The tickets are awarded to users every time they add cash above ₹500 during the day.
Tournaments play a significant role in enhancing the thrill and engagement of the rummy game. Free tournaments provide a no-risk environment for beginners and users not yet ready for cash games, allowing them to build their skills and confidence. Cash tournaments offer the opportunity to win real money by participating in tournaments with fixed entry fees. Satellite tournaments provide an exhilarating journey, with players progressing through different stages to reach the grand finale. Each tournament type brings its own set of benefits and experiences, ensuring there is something for every rummy enthusiast.
Rummy Tournaments for New Players as well as Beginners
Free tournaments are an excellent platform for new users who are just starting their journey on the rummy platform. These tournaments provide them with an opportunity to familiarise themselves with the game and gain valuable experience without any financial risk.
Players Not Ready for Cash Games
Free tournaments are also available to users who are not yet ready to join cash games with buy-ins. These players can participate in free tournaments, gradually build their confidence and skills before venturing into cash games.
Summary of Tournaments on RummyTime
Listed below is the summary of tournaments taking place at RummTime.
| | |
| --- | --- |
| Types of Tournament | Free, Real Cash and Satellite tournaments |
| Are tournaments taking place everyday? | Yes. There are Daily Tournaments conducted at 12 noon and at 9 pm |
| When does the finale take place for these daily tournaments? | Finale of daily tournaments takes at 10 pm |
| Are there tickets for pro daily qualifiers? | Yes.The tickets are awarded to users every time they add cash above ₹500 during the day. |
| Which is the flagship tournament? | Royal League is the flagship tournament of RummyTime. |
| What is the minimum entry fee for Satellite tournaments? | Usually starting at ₹ 10, and gradually progressing through each stage. |
| Are there tournaments for absolute beginners who want to play without cash? | Free tournaments are available to players who wish to join without entry fees. |
| Which are the top level tournaments? | Saturday Mega Freeroll and Sunday Ultimate Freeroll are our top level tournaments with big cash prizes. |
Terms and conditions?
Final winnings are dependent on the number of participants within the tournament.
Players registered for the tournament are randomly allocated on the tables.
In case of any dispute regarding the selection of winners, Rummytime's decision regarding the same shall be final and binding.
Terms of service are applicable to all services offered on Rummytime.
In case of queries, contact our customer support team.
How to Install Rummytime App
Step 1

Click the downloaded button and tap on 'OK'

Step 2

Click 'Open' on the downloaded app, and click on 'Settings'

Step 3

Tap on 'Allow from this source' and click on the mobile back button.

Step 4

Click on 'Install' and start playing.